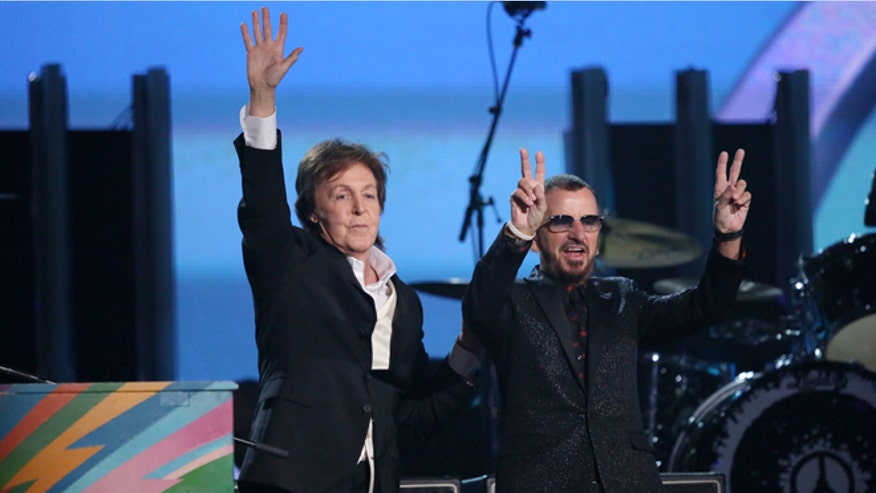 Ringo Starr will be the last Beatle to be inducted into the Rock and Roll Hall of Fame for his solo career, and he told ET that Sir Paul McCartney had a big hand in making it happen.
NEWS: Ringo Starr Talks Zayn Malik Leaving One Direction: 'The Pressure Is More Now'
"They were all surprised that I wasn't in the Rock and Roll Hall of Fame," Ringo, 74, told ET of his bandmates. "And [Paul] talked to somebody and they're going to put me in the Rock and Roll Hall of Fame, and he's going to give me away like I'm the bride and I will accept."
The Beatles were inducted into the Rock and Roll Hall of Fame in 1988. Paul, John Lennon and George Harrison have all been accepted as solo artists.
Paul will be the one to usher Ringo into the Hall of Fame on April 18 during the 30th annual induction ceremony at Cleveland's Public Hall, while Eagle Joe Walsh will perform some of Ringo's music. Joe is also featured on Ringo's 18th album, "Postcards From Paradise," which was released Tuesday.
Beatles' secretary Freda Kelly finally breaks her silence: Protecting John Lennon's affairs, sleeping at Ringo Starr's house

Being a Beatles baby: Julian Lennon reflects on big Beatles anniversary

Beatles' sitar player Ravi Shankar dies at 92
NEWS: Pharrell Talks Grammy Hat & Performing for Beatles
"I've got Joe Walsh playing, Steve Lukather, Peter Frampton, and we can just rock on because also I am a musician so I enjoy that and hope people will enjoy that too," Ringo said.
Even with all the success that Ringo has had after the Beatles he still remembers that era as one of the best times of his life.
"The Beatles was great," Ringo said. "I had three brothers and we made some great music, worked hard and we put something out and it's like we're selling again."
NEWS: 'Glee' Returns With Beatles Episodes
Ringo scored several Top 10 hits as a solo act after the Beatles' breakup in 1970, including No. 1 hits "Photograph" and "You're Sixteen."
"I feel inside successful as an act," Ringo said. "No one is more successful than [the Beatles] and I was one of them. I mean you're here because I was in that band. I mean you take a little interest in this, but you take more interest — let's be honest — because I'm one of them."